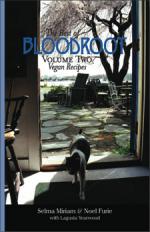 Autumn for me is about getting grounded. Its about reminding myself of the most important things in my life and remembering to appreciate them. When I get in this frame of mind, away from the heated and frenzied days of summer, that I take up old routines like bigger fancier meals stock full of southern comfort foods.
Cooking so much gives me time to think about myriad subjects as the spoon goes round and round and my thoughts with it. The days activities, tomorows wish list, holiday preps and end of year wrap up neccessities all travel around in my head. New ideas present themselves, both personal and public, work ideas, family ideas, relgious thoughts, spititual ideas… And I feel more open to new ideas and to other perspecctives.
I wonder if its this karmic, renewal process that happens to me each year or if its just luck but I have found a new cook book that blows my mind. Its a Vegan cookbook but that 'aint it, friends and neighbors. Bloodroot Volume 2 by Selma Miriam and Noel Furie is a collection of recipies from the famous vegan restauraunt, Bloodroot.
Its not just a cookbook but a series of fiery essays on feminism, vegetarianism, and a really interesting piece on the merits of coconut milk as opposed to dairy. Its like reading Ms Magazine with a WHOLE lot more recipies.
I really like the fact that the recipies are divided into seasons. Thats way fun. I loved the Banana Soup!
The Best news is Im giving away a free copy of this fantastic cookbook to one lucky winner.
In order to register for the cook book please blog about the contest and leave a post here telling us about it. Twitter about it for an extra entry. On 10/20/09 we'll chose a name from all the entries and post the winner here! Good Luck!